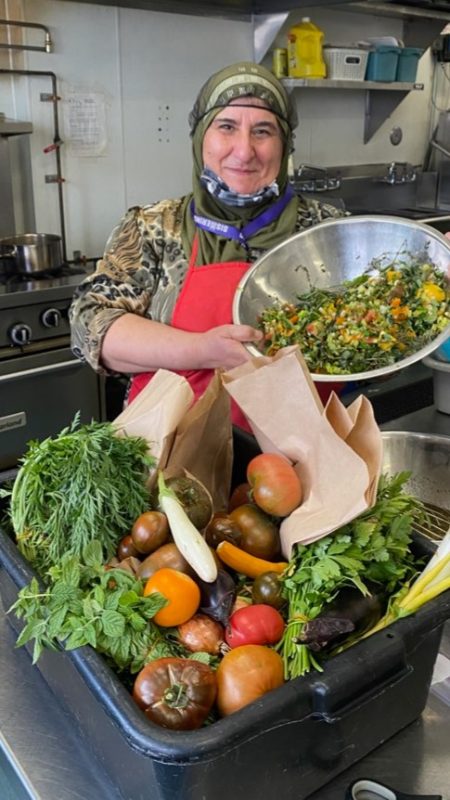 Lack of food security and access to nutritious and affordable foods is an increasing issue that requires proactive solutions. For over 40 years, Sistering's Food Access program has continued to provide healthy, delicious, and culturally appropriate foods to community members experiencing food insecurity, poverty, and homelessness. Since Sistering's conception, the Food Access program has been an integral part of the organization, as it is around the dining table through sharing food and stories that we build a sense of community and connection at Sistering. We believe that access to healthy food is a human right; food security directly affects a person's long-term health, emotional, physical, and mental well-being, and economic stability.
Sistering's Food Access program serves over 350 meals/ day; we serve 250 meals from our Bloor/Gladstone location, 70 meals from the Masaryk-Cowan Community Recreation Centre in Parkdale, and send approximately 30 meals off-site to support those struggling with food security.
Sistering is proud to introduce a new initiative called the Community Kitchen. This program helps unite our community through new and nostalgic flavor pairings and highlights cuisines from around the globe. The kitchen celebrates a culture or region by preparing a traditional menu with unique flavors and meals. This initiative allows Sistering participants to cook their favorite meals and share dishes with the Sistering community – cooking and sharing nostalgic foods helps us foster meaningful connections and share part of our personal stories.
Sistering Kitchen Employment Program
The Sistering Kitchen employment program offers peers a pathway to a career in the culinary arts and economic independence. In the kitchen program, Sistering peers work up to 15 hours a week, learn essential cooking skills, gain work experience in a fast-paced environment, and build up their resume for a career in the culinary industry. Currently, Sistering employs six kitchen peers. 
We are grateful for the ongoing support of our regular donors. Thank you, KFC, Red Lobster, Whole Foods, Daily Bread, and Second Harvest, for helping to expand food security!
Help feed the Sistering community and become part of the solution! You can help by donating daily meals to Sistering participants; sign up to become a monthly donor by filling out the forms below.
Additional Info
Only use this portion if you need to fill extra space, as it is more general information and not directly about Sistering.
Root Causes of Food Insecurity
Affordability: People accessing food banks in Canada are more likely to be in the lowest income bracket and are particularly affected by increases in food prices. The rising cost of food is only part of the issue; limited financial resources and housing costs over the affordability threshold of 30 percent of one's income restrict people's ability to manage food inflation and struggle with food insecurity. In addition, people working in the lowest-paying jobs were less likely to have seen any wage increases during the past year and were more likely to work in industries where part-time work is the norm.
Structural Factors: There are macro-level factors that create barriers to food security beyond inflation. Systemic issues such as colonialism, racism, classism, sexism, ableism, and ageism, as well as social determinants of health, such as income, education, transportation, and access to housing and community infrastructure, can be detrimental to food security. It is essential that we provide adequate support services and programs for marginalized populations and strive for an equitable society for all.
Food Insecurity in Canada
Food Bank Access:
In March 2023, Food Banks Canada reported nearly 2 million visits to food banks across Canada. This data represents an increase of 32% compared to March 2022 and a 78.5% increase compared to March 2019. This jump is the highest year-over-year increase in usage ever reported. Food Banks Canada served a total of 3,820,925 meals over March 2023.