Making Visible is a four-year community-based participatory research project that seeks to address the pressing homelessness and housing crisis in Canada.
Through this project Sistering will have increased skills, tools, networks and capacity to support advocacy and Gender-based Analysis Plus (GBA+) to raise the unique issues of homelessness facing women (cis and trans) and gender-diverse people.
The collaborative process embedded in this project enables Sistering to solidify and expand our partners and networks. This funding also provides dedicated resources to develop a communication strategy and knowledge mobilization products to shape the narratives about women and gender diverse people's homelessness.
Project Team
Making Visible brings together a diverse range of stakeholders who have expert knowledge on gender-specific drop-in spaces, homelessness and housing precarity. Women (cis and trans) and gender-diverse folks with lived expertise on homelessness and housing play key roles throughout all levels and phases of the project as Peer Researchers, expert advisors, project staff and as participants. 
Project Lead: Aoife Mallon
Research Assistant: Lobsang Dolkar
Communications and Research Consultant: Ali Serjeant
5 Peer Researchers
Advisory Committee, which includes lived expert advisors, community members, and Sistering staff
Methodology
The research project employs a mixed-method approach. A literature review identified the uniquely complex and nuanced forms of homelessness faced by women (cis and trans) and gender-diverse people, the data-gathering phase of the project includes key informant interviews, digital storytelling and a national survey. A Gender-based Analysis Plus (GBA+) framework underpins the project.
Right: Flowchart illustration of the phases of  GBA+ framework via Demystifying GBA+ Job Aid, Status of Women Canada.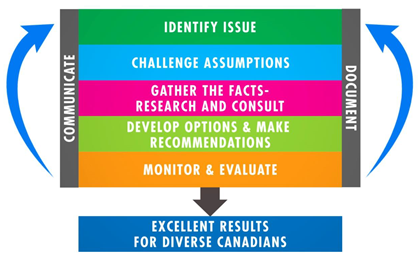 Making Visible Project Timeline
Highlights
 

YEAR 1, April 2019 – March 2020

– Project launched

– Research Assistant hired

– Sistering staff and participants Needs Assessment completed, entitled "Organizational Capacity Self-Assessment Tool"

 

YEAR 2, April 2020 – March 2021

– Peer researchers hired

– Advisory Committee established with hired Lived Expert Advisors

– Key Informant Interviews conducted

– Literature Review completed

 

YEAR 3, April 2021 – March 2022

– First Advisory Committee meeting held

– 10 Digital Storytelling workshops with Peer Researchers facilitated

– Network of community partners established

– First in-person Peer Researcher meeting held with lunch at Dufferin Grove Park

– Digital Stories completed and screened for Peer Researchers and Advisory Committee

– Peer Researcher surveys completed

– Community Forum hosted

 

YEAR 4, April 2022 – March 2023

– Project will be completed
"CREATING VITAL AWARENESS AND IMPLEMENTING INTEGRAL ADVOCACY FROM LIVED EXPERTISE AND RECOVERY, ARE TO ME SUCH A HEALING ASPECT OF THESE DYNAMIC AND CONNECTIONS-BASED POSITIONS WITHIN THE MAKING VISIBLE ADVISORY COMMITTEE AS WELL AS MY ROLE AS PEER RESEARCHER. BOTH OF WHICH I AM HONOURED TO BE A PART OF, ON MY JOURNEY FROM SURVIVAL TO ULTIMATELY, THRIVAL"
– ANASTASIA P.
Peer Researcher &
Advisory Committee Member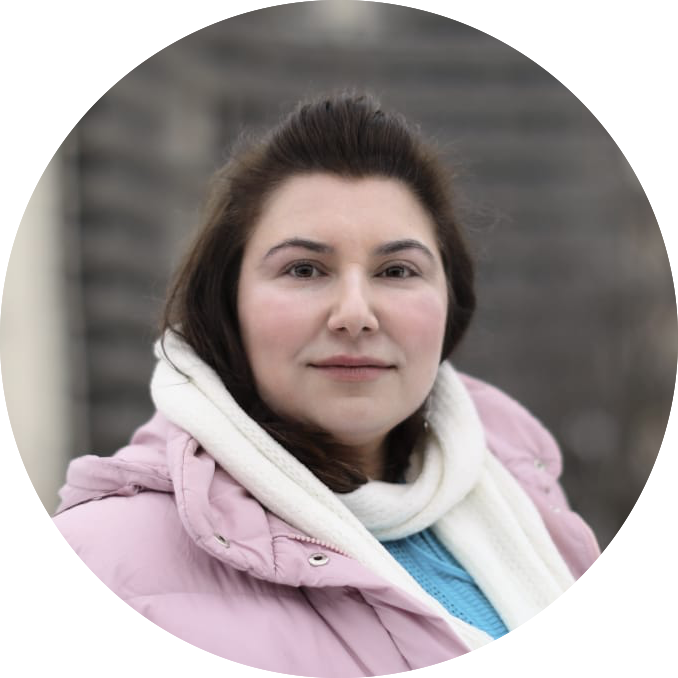 Digital Storytelling
In recognition of the uniquely complex and nuanced forms of homelessness and housing precarity faced by women (cis and trans) and gender-diverse people, the data-gathering phase of Making Visible involved a digital storytelling component. Using the GBA+ framework to guide the design of the consultation and data-gathering processes, a qualitative analysis of disaggregated data will be achieved through digital storytelling with participants to provide recommendations. Digital storytelling is a popular method of working with diverse groups of people in a community development setting where individuals' lived experiences are shared through digital media platforms. 
Making Visible's digital storytelling component involved 10 weeks of workshops, where Peer Researchers worked with the Making Visible staff team to document a chosen aspect of their story. These digital stories share snapshots of unique and often overlooked real-life experiences, and support Making Visible's advocacy aims. Informed consent was ensured throughout this process, and will continue to be of utmost importance as they are shared more widely. We hope these stories will encourage meaningful engagement on the experiences of homelessness and housing precarity.
Central to Making Visible is the community-based participatory research methodology employed, which includes a network of local agencies, service users, community members, lived expert advisors, Peer Researchers, as well as Sistering participants and staff. Making Visible's network of community partners will assist us in gaining diverse insight on issues related to women's (cis and trans) and gender diverse peoples' homelessness, developing advocacy tools, and hopefully extending the findings of this project into future advocacy and support work. The Making Visible Community Forum was an online and interactive space that brought together this network of community partners.  
The Community Forum closed in March 2022. Thank you to all those who participated! Stay tuned for findings that resulted from the Community Forum discussions, as well as for ways to partner in future Making Visible activities.
Digital Storytelling Community Feedback
Share Your Thoughts on the Digital Stories!
We would love to hear from you! Let us know your impressions and reflections on these digital stories in the comments below.
Questions, Concerns or Feedback?
Please reach out to the below contacts if you would like to get involved with Making Visible or if you have any questions, concerns, or feedback you wish to share:
Aoife Mallon, Project Lead at [email protected]
Ali Serjeant, Communications and Research Consultant at [email protected]. 

This project has been supported by Women and Gender Equality Canada.